Date: 19-05-2018, 06:01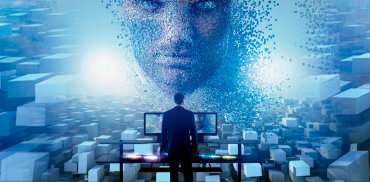 Leakage of Facebook data - children's antics against what is produced in China! We have already written about the introduction of a system of social credit in the country. This rating and the right to privacy, as parallel direct - will never intersect.
Another similar development - sensors of brain activity with artificial intelligence. They are already following the emotional state of train drivers, employees at some enterprises and soldiers during military operations.
Appropriate sensors are built into conventional protective helmets or caps. They fix brain waves and transmit this information in a computer network that uses artificial intelligence. The latter also determines if a person has depression, or perhaps she is concerned or furious.
According to Jing Jia, a professor at the University of Ningbo, an emotionally unstable employee in a key position under the influence of certain factors may pose a threat to both production and his subordinates.
"When the system captures emotional instability, the manager asks the worker to take a day off or move to a less responsible position. Some industries require high concentration. There is no room for error, "says the professor.
She also adds that initially the workers reacted to the technological innovation with fear and suspicion.
"They believed that we can read their thoughts. This caused some discomfort and resistance in the beginning. And after a while people got used to the device, "added Ms. Jia.
Zhao Binjian, head of Ningbo Shenyang Logistics, said the company uses sensors to train new employees. The brain sensors are integrated into virtual reality headsets to simulate various scenarios of events during work processes.
"This significantly reduced the number of mistakes made by our employees," Zhao said.
In addition, the sensors are mounted in the cap of the drivers. They fix different types of brain activity, among them fatigue and loss of attention, with an accuracy of more than 90%. In the event that the driver is behind, the sensor connected to the systems in the cabin will turn on the alarm to wake him up.
Takozh vidomo, scho takii analiz vikoristovuyutsya vіys'kovі galuzі ta meditsinі.
Yak here znovu not to guess the novel of George Oruele "1984", in which takemna politsya yo saw that punished people for the dumas, not grasped by the landlord?
"There is no law or regulation that limits the use of such equipment in China. The employer has a great incentive to use technology to generate higher profits, and employees are usually too weak to say "no", Qiao Zhian, a professor of psychology at the Beijing Pedagogical University, shared his opinion.
For example, Zhejiang State Grid Electric Power has been using sensors since 2014. During this time, it increased its profit by $ 315 million.
"There is no doubt that this was due to this technology," said Chen Jingzhou, a spokesman for the company.
Source: tokar.ua