Date: 7-06-2018, 06:55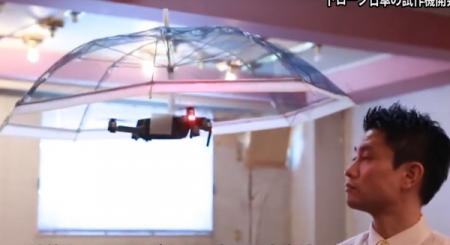 The design is based on an unmanned drone, on top of which the umbrella is located. Dron connects to a person's mobile phone and constantly follows it so that the smartphone is always under the drones. In addition, the drone is equipped with cameras and is able to recognize its owner.
As the president and founder of Asahi Power Service, Kenji Suzuki, said, "The thought of a flying umbrella came to me in the time of a sudden downpour when I had both hands. Now the main task is to reduce the cost price, as well as the need to teach drones not to collide with each other friend in the air. "
Weight flying umbrella is about 5 kilograms, and the battery can work without recharging for 20 minutes. Now the company's experts are aimed at reducing the weight of the device to 1 kilogram and increasing the battery life up to 1 hour.
In addition, the development plans include the development of software in order to teach the drone as a guide to use not a smartphone, but its owner.
The estimated cost of the device is about $ 275, and the market entry is scheduled for 2019-2020.