Date: 3-04-2018, 07:11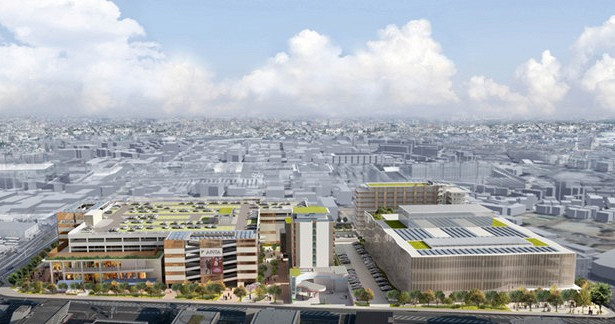 In Japan, not far from Yokohama, the "clever" city of Tsunashima officially opened, over which a group of eight large Japanese companies, led by technological giant Panasonic and developer Nomura Real Estate, worked for several years with the support of local authorities, ITbukva.com reports.
Unlike Fujisawa, another Japanese smart city opened by Panasonic in 2014 and conceptually reminiscent of a one-story America, the clever city of sustainable development Tsunasima (that's the name of the project) is the quarter of the smart metropolis of the future.
On its territory there are a multifunctional office building, an eco-friendly residential complex, an "intelligent" shopping and entertainment center, an Apple research laboratory, a Keio University student campus, a hydrogen charging station and other futuristic facilities. In the future, Tsunasima will become an incubator, a test platform and a real embodiment of innovations in business, education and everyday life.
Of course, there will still not be a flying taxi from futuristic movies. But many technologies implemented in the "smart" metropolis have no analogues.
For the development of Tsunasima and urban infrastructure management, the Smart City Information Modeling (SCIM) information modeling platform, developed by Obayashi, one of Japan's leading design firms, will be used. The SCIM system represents the city in the form of an interactive 3D model that constantly receives data from sensors and cameras installed at various points in Tsunasima (on energy consumption, the number of people, transport, etc.). Thanks to this platform SCIM can visualize a "smart" city from a wide variety of points of view.
Panasonic sensors installed in the territory of Tsunasima can continuously monitor the state of the environment: temperature, humidity, ultraviolet radiation, rainfall, CO2, suspended particles and pollen. Based on the information received, it will be possible to adjust the range of the shopping center and offer the residents and guests of Tsunasima topical services. For example, if the level of pollen in the air increases (the flowering of plants began), additional medicines for allergic persons or masks can be delivered to the pharmacy.
Touch Panasonic Vieureka cameras with built-in video analytics will be able to track and in a generalized form (to protect the right to privacy) to visualize the number, sex and age composition of visitors to the city and other useful information.
Infrared sensors Panasonic Grid-EYE will be able to record the location of people at certain points and with the help of a special algorithm to build "thermal maps", identifying places of mass congestion, popular routes and much more. The sensors will also create a comfortable indoor microclimate.
As early as April 2018, the smart city will move from the planning stage to direct operation. In the heart of Tsunashima, a multifunctional administrative center, combined with a security center (supported by ALSOK), will start operating. On the territory of the city will be tested security systems of a new generation based on artificial intelligence and other technologies. The passenger service Sunautas of Yokohama organizes a system of car renting and bicycle rental. Honda Motor will launch a system of car fueling on fuel cells.
Great importance will be given to the creation of innovations. Panasonic Corporation and Keio University organize special studios for the exchange of ideas and dialogue of representatives of business, science, local community and authorities. The most promising ideas are planned to be finalized to ready-made business models and commercialized.
"Energocenter", located in the heart of the city, will regulate the production and consumption of electricity, providing commercial and residential facilities with clean energy and backup power in case of natural disasters. The highly efficient heating system of the Tokyo Gas Group based on household gas will be used to produce electricity, heat houses and heat water. Gas deliveries will be carried out on special earthquake-proof gas pipelines of medium pressure, which will not stop working even in case of natural disasters.
Created with the participation of JX Nippon Oil & Energy corporation, the hydrogen filling station will serve environmentally friendly cars with fuel cells. To ensure safety, a variety of sensors, seismic-resistant materials and structures will be used here.
The traditional principles of Japanese culture combined with modern technologies will create a healthy and safe environment for the life and work of students from different countries in the International Campus of Keio University. Its premises will be easily adaptable to any task, thanks to light controllers that regulate lighting, as well as Space Player systems - a unique symbiosis of lighting and projection technologies, allowing to transform spaces using projections and architects