Date: 15-05-2018, 07:01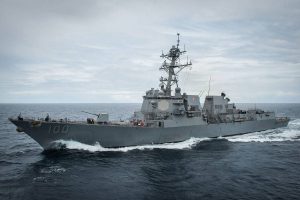 In 2024, the US Navy should arm itself with a fundamentally new combat ship.
The portal defensenews.com reported that the company Huntington Ingalls began to build a destroyer Jack H. Lucas (DDG-125).
Jack H. Lucas will be the first ship of the Arleigh Burke type of the newest version of the Flight III. In the US military department indicate that these ships will resemble predecessors only externally.
The main innovation of the Flight III project was the installation of the new Advanced Missile Defense Radar (AMDR) AN / SPY-6 radar system, which will replace the SPY-1 radar. In Huntington Ingalls indicate that the new modification required changes in 45% of the details. Thanks to the new radar, the crew will have improved capabilities to find targets. The developers indicate that AN / SPY-6 is 30 times more sensitive than AN / SPY-1. In addition, the ship's combat system will be able to work with F-35 fighters in passive mode, which will allow it to remain unnoticed for the enemy.
The new destroyers will receive a modified superstructure, as well as a strengthened power installation and some changes in the hull design that increase the survivability of the ship. In addition, the Arleigh Burke destroyers of the Flight III project will be equipped with more personnel.
Arleigh Burke type ships are the only US Navy destroyers (not including the experimental Zumwalt type). Their displacement is from 8200 tons for Flight I modifications and over 9600 tons for Flight III. The length of the ship is more than 150 m, width is 20 m. The ships of this class are equipped with artillery and missile installations, antiaircraft artillery, and also mine-torpedo armament. In addition, each of the destroyers can carry one or two helicopters (depending on the generation to which this or that ship belongs). Now the US Navy has 68 ships of this type in service.