Date: 5-07-2017, 08:00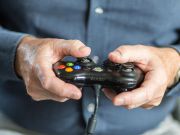 Researchers at Cambridge University wrote a computer game that aims to improve memory in people with first signs of dementia, writes Reuters.
App Game Show designed in the form of a game and already dopami a small group of patients older than 45 years, to improve memory by as much as 40%. Within a month they had to earn gold coins, placing on different patterns. The more successful the player, the more difficult becomes the task. "We hope to use these findings in future studies of health in old age and the treatment of mild forms of Alzheimer's," says George, Sawalich from the University of Cambridge. According to him, patients not only improved memory, but also learned to perceive more complex visual information.
According to the world health organization, 47.5 million people worldwide suffer from problems with memory (statistics for 2015). Senile dementia is almost not treatable, and there are only a few medicines that can slightly slow down the development of certain symptoms — poor memory, decrease in mental, behavioral, navigational abilities, as well as the loss of ability to perform routine chores.
However, independent experts are skeptical about the research of experts of Cambridge and believe that more accurate insights you need to compare a mobile game application with other methods of brain training. "Most likely, this method will help only in the early stages of dementia," says Tara, Spiers-Jones from the University of Edinburgh.