23-07-2017, 08:40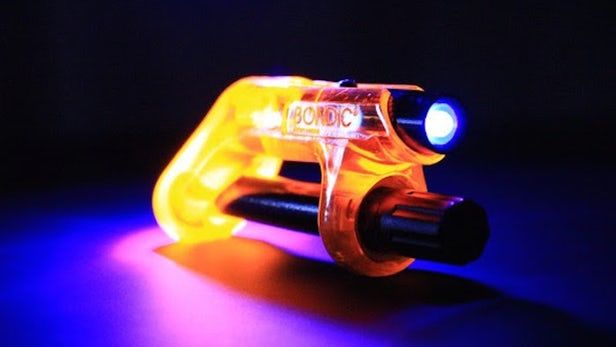 Usually welding machines represent massive units, all of which are professionals. But have got in technology and innovation, seriously reducing the dimensions of the tool for welding.
BondicEvo is an advanced plastic welding machine, which is not able to produce some serious and major work, but at the household level, perfectly cope with their tasks. BondicEvo superficially resembles a water pistol, but it is necessary to turn it on and it becomes clear that this is a serious tool capable of many things.
On Kickstarter appeared plastic welding machine
BondicEvo works by spraying materials, like plastic, metal or glass, after which the substance imposed by the gun harden with a UV lamp. The whole process from spraying and before complete solidification takes place in just four seconds.
Currently find BondicEvo in the sale, as he is the subject of a crowdfunding campaign on Kickstarter where you can pre-order welding machine only $ 11.
23-07-2017, 08:37
There are plenty of users who have "Lopatina" cause rejection and antipathy. Maybe it's habit or small palms, small pockets or handbags. The only problem is that in our days to find a compact yet powerful smartphone is no easy task. Help nostalgic for devices with a small case prepared by Sony and on IFA 2017 reveal the world of 4.6-inch flagship. Presumably, to be called "baby" will be the Xperia XZ Compact.
It is noteworthy that in its decision, the compact Japanese will leave powerful stuffing to please fans of productive solutions. So, the hardware basis of the device will be a Snapdragon 835 with 4 GB of RAM, will own the 64 GB, the battery life will be responsible battery 3000 mAh and ship the new product will be preloaded with Android OS 7.1. From the acclaimed Xperia XZ Premium its mini brother borrow Motion Eye camera based on the Sony sensor IMX400 resolution of 19 MP, the distinctive feature of which is the ability to record video with a frame rate of 960 fps in 720p resolution. Sound predictions that the device with this set of characteristics will request about $592.
23-07-2017, 08:33
A group of researchers from the Technological University of Eindhoven (Eindhoven University of Technology), the Netherlands, and Kent State University, USA, have created tiny polymer "robot", a device which performs direct conversion of light energy into energy of mechanical movement. Under ultraviolet light a "robot" bends like a caterpillar and it can be used as a kind of "engine" for the mechanisms that move small objects in inaccessible for people.
The device, about the size of a paper clip, consists of a thin layer of liquid crystal polymer superimposed on a layer of other flexible polymer material. In this case, the length of the upper layer is slightly less than the length of the base layer, whereby in one place the resulting two-layer structure there is a projection and the other cavity.
When ultraviolet light illuminates the structure, the greatest amount of light absorbed by the material located at the top of the ledge. Photosensitive molecules in the upper layer of the material alter its structure, what makes this layer to stretch.
When you reach a certain level of stretching of the upper layer of material of lower elastic base acts as a spring and what was a ledge, it becomes hollow, and the former depression becomes a ledge.
Above-described cycle of light absorption and shape changes is repeated again and strip the "robot" performs undulating movements, like the movement of a caterpillar. As a result of these movements of the "robot" moves across the surface at a speed of half a centimeter per second away from a light source.
But in order to get "robot" to move in the opposite direction, you just need to flip it over by placing the photosensitive layer below the layer of elastic polymer.
During laboratory experiments of such a "robot caterpillar" was able to move objects, surpassing him in size and weight. And scientists see the possibility of using such material in the coating for smart Windows and solar cells that will themselves periodically to shake off adhering to them moisture, snow, dust and dirt.