Date: 6-11-2018, 05:59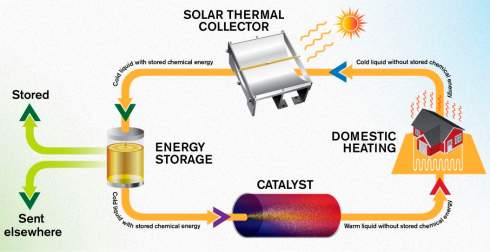 A group of scientists from Sweden has created a substance that can accumulate the energy of sunlight and give it away if necessary, no matter how fantastic it sounds.
The essence of the invention is that in the substance, called norbornadiene, under the influence of sunlight, the bonds between nitrogen, hydrogen and carbon atoms are rebuilt, as a result of which another substance is formed - quadricyclan. From the system of transparent pipes installed, for example, on the roof of the house, the converted substance is sent to the tank for further storage, and if necessary, the quadricyclan is driven through a special catalyst, heating the heat exchanger to 63 degrees and again turning into norbornadiene. With such a system, you can heat the water in the house or use the heat to heat it, generate electricity.
In Sweden, scientists have learned to keep solar energy in "liquid fuel"
Scientists say that at this stage about 250 watt-hours are stored in one kilogram of the substance, but they intend to increase its density. They also want to ensure that the reaction in the catalyst coolant is heated to at least 80 degrees. And the main problem that scientists from Sweden are going to solve is the fact that their substance needs ultraviolet or blue spectrum to go from one state to another, and both of them constitute only 5% of the total solar study.