Date: 20-06-2019, 05:55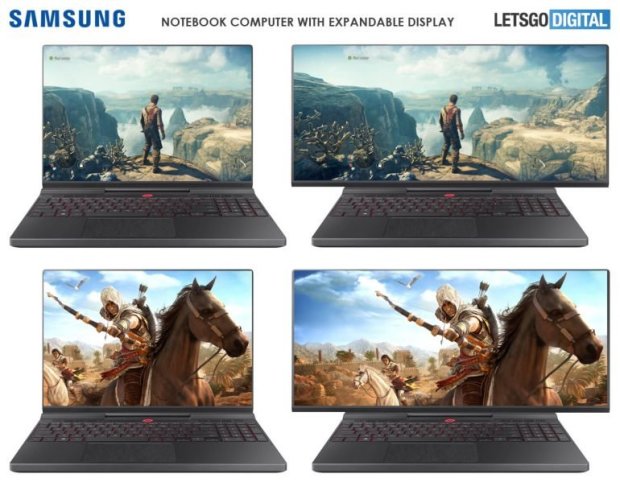 Samsung has patented the first laptop with sliding walls
Famous Korean manufacturer of equipment Samsung is preparing to release the first of its kind laptop, the screen of which will expand as needed, creating additional space for work or watching movies
So, a laptop with a non-permanent screen will be called Galaxy Fold and will repeat the latest features of the latest Samsung smartphone, which can "push" the walls of its screen. The design was patented on December 19 last year, and patent documents were published in June of this year, reports itech.
It is noted that in the folded state, the aspect ratio of the novelty is 16: 9, and its increase reaches 50%. At the same time, it is not known how exactly the aspect ratio changes after the inclusion of a special function. In the manufacturing company only indicated that it will be more. Than 21: 9, but a little less than 32: 9.
The super-wide screen is suitable for working behind a laptop, for playing games, and for watching movies. When the laptop screen is decomposed, it remains supported by a metal frame that moves with the screen parts to the side, that is, the screen is protected from damage.
Earlier it was reported that Samsung may soon release a smartphone with two screens. They have already received a patent for this gadget. It is reported that the second is located on the back of the smartphone. It can be used for selfies.
This arrangement gives manufacturers the opportunity to opt out of an anterior chamber or sliding mechanisms. At the same time, the main screen can occupy one hundred percent of the front panel area.
The patent was obtained quite recently, on June 11, 2019. Interestingly, the patent was issued by the US Patent Office, and not by the South Korean equivalent. Therefore, we can conclude that the smartphone will appear on the market very soon.
However, it is worth remembering that companies like Samsung annually register thousands of patents, and almost all of them do not get to mass production. So you can stake out a certain technology behind you, and if anyone else wants to use it, get a percentage of the technology license.