Date: 4-07-2019, 06:23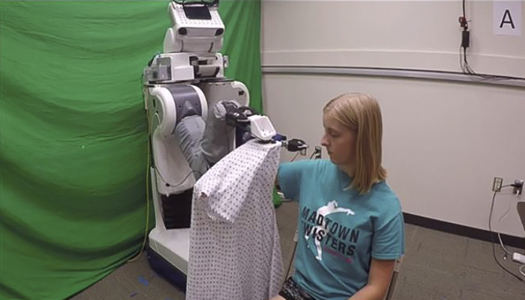 American engineers taught the robot to carefully wear a sleeve of clothing on a person. The algorithm they created allows them to control the force with which the sleeve presses on the arm, and to adjust the movements of the robot to ensure maximum comfort for the person, reports the website of the Cornell University Library.
Such developments can be useful for people with disabilities. Thus, robots have already been created that are capable of bringing household objects to the sick — the development was presented by Toyota, mir24.tv reports.
A new algorithm was created by a group of engineers from the Georgia Institute of Technology under the direction of Charles Kemp. It consists of several components. The location and magnitude of the forces applied by clothing to a person's hand is determined based on the readings of the sensors. Another component predicts the strength with which clothing will affect the hand in the process of dressing. Also, artificial intelligence plans actions for 0.2 seconds ahead, choosing the most comfortable for a person. Parts of the algorithm are based on long short-term memory (LSTM).
Algorithm training was carried out using simulation, trial and error. Training in a virtual environment helped identify actions that could harm people.
After this robot, Willow Garage PR2, equipped with a manipulator, was tested on ten volunteers. When planning actions in 0.2 seconds, the robot successfully coped with the task in more than 97.5% of cases.