Date: 23-07-2019, 05:55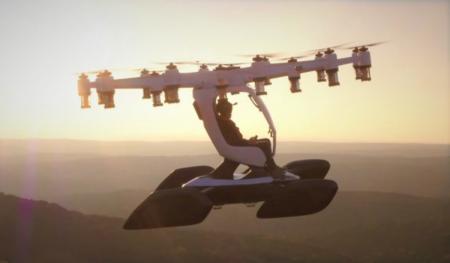 Last year, the United States developed a single-flying electric vehicle, and in this, the American inventors suggested that it was legal to sit at the helm of an air vehicle, even without a pilot's license.
More than 100 kilometers per hour, this device does not accelerate, but managing them does not require special skills.
Already this year everyone will be able to fly on such a single device, the developers say. The company from Texas took to compete with such giants of the aviation industry as Boeing and Airbus, and developed a passenger drone with vertical takeoff and landing.
Personal aircraft is powered by electricity, and the battery lasts for 15 minutes of flight. 18 rotors are raising it in the sky.
"He has a ballistic parachute system, he can lose six propellers and still fly, he has floats, thanks to which the drone can crash on the water and drift, everything is designed for safety. There is even a radar that is looking for flocks of birds." says unmanned technology expert Collin Ginn.
However, the greatest achievement of the developers consider the light weight of the flying device - less than 200 kg. Therefore, according to the classification, the device belongs to ultralight vehicles, and therefore, it can be operated without a pilot's license.
"We really see a future where everyone can fly. So far, the federal aviation authority does not certify electric jets with vertical landing. And they are available for recreation and sports. We want people to fly," said company founder Matt Cheysen.
Before you pick up the joystick and fly away, future aviators are preparing for the simulator. You can control the device remotely, from the ground. A computer system will not allow to fly beyond the recommended perimeter.
"In 10-20 years, we will all fly on these. It will happen even with our generation. These devices will be completely autonomous and will know about each other," says Collin Ginn, an unmanned technology expert, on the Ukraine Today news channel. ".
Inventors say: just as electric cars become the future of road traffic, the future of aviation is behind electric airplanes.