Date: 22-07-2017, 04:35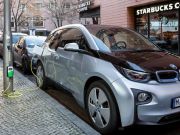 Old street lamp in London's Westminster appearance remained the same as in 1950-ies. But now you can open the little door in its base and to charge the electric car, writes Fast Company.
Unlike conventional chargers, the version proposed by the start-up Ubitricity, does not occupy unnecessary space, and since it relies on existing infrastructure, the system is cheaper and easier to install, and in London, just want to quickly increase the number of public charging stations.
"Currently, it can only do we, because no one else has these little chargers", says Knut, Heftier, co-founder of Ubitricity. All that the customer needs to do is buy a special charging cable. It is necessary to carry in the trunk, unlike the owners of electric cars in the US, where charging cables are built into the station.
"From the lamppost you can get up to 6 kWh of energy. This means that any Tesla car, even completely discharged, it will have charged up in the morning, if you leave it on overnight," says Heftier. The system is designed to slow the car's charging, and a startup trying to compete with stations fast charging like Ecotricity, electric car charge almost fully in 30 minutes.
Ubitricity has already upgraded 82 street lights in London and was scouting locations for the installation of dozens of others. The company hopes to raise funds to start a business in USA.