Date: 3-10-2017, 07:00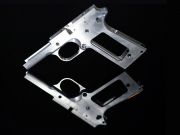 The American crypto-anarchist Cody Wilson on Sunday announced the release of new software for created 3D printer weapon known as the Ghost Gunner. The new code allows you to print a frame for a semi-automatic pistol Colt-45 at home without serial numbers and licenses, Wired reports.
Frame is the only part of the gun that are subject to mandatory registration. Under current U.S. law, any other part of the weapon can be ordered online without any issues. The creation of the frame house means that the whole process of assembling a gun will not require identification, and serial number, which would allow authorities to track its origin.
A few years ago, Cody Wilson printed on a 3D printer the world's first combat pistol, plastic, and posted your code to open access. He then began to sell its own printer-a machine that allows about an hour to create at home frame semi-automatic AR-15 rifle from a piece of aluminium. Today the new software will allow owners of the printer to generate the frame M1911, a popular class of semi-automatic pistols, which makes the Colt-45. The plans of the Wilson code to print Glock 17 and other popular models.
Cody Wilson is best known as the founder of the nonprofit organization Defense Distributed, which develops and publishes projects of weapons of open source that are suitable for 3D printing. On the website Defense Distributed States that the purpose of the organization is "to protect human and civil right to keep and bear arms, guaranteed by the Constitution of the United States" and "co-produce, publish and disseminate public information and knowledge related to the digital manufacture of arms."
In addition, Cody Wilson is one of the founders of storage technology bitcoin Dark Wallet to hide their operations from the authorities. Over the past four years it has twice been included in the list of the most dangerous people in the world.