26-11-2019, 05:50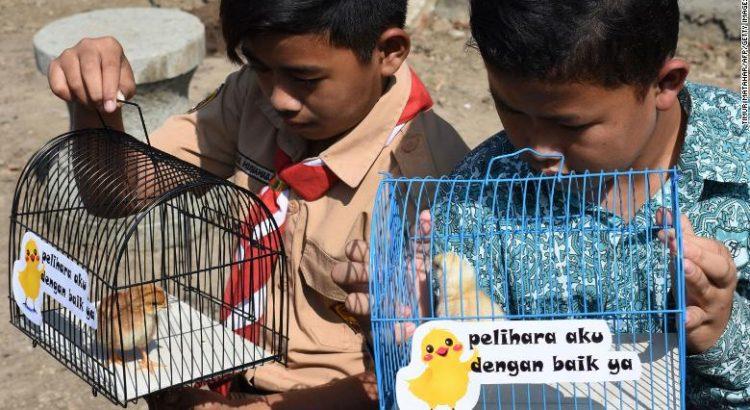 It is hoped that the project will help children use electronic gadgets less frequently, but local education authorities need time to evaluate this initiative.
An original way to overcome the dependence of students on the Internet was found in Indonesia.
There they launched the Chickenization program - they distribute small chickens and plant seeds to children, hoping that students will spend less time on electronic devices and more time caring for their pets or sprouts.
It is interesting: A woman built a house from glass bottles in Brazil
In total, two thousand chickens and one and a half thousand chili seeds have already been distributed in 10 primary schools in the city of Bandung, Oswitoria writes with reference to CNN.
At the beginning of this week, a symbolic presentation ceremony was held to begin the program.
It is hoped that the project will help children use electronic gadgets less frequently, but local education authorities need time to evaluate this initiative.
This is interesting: I almost got into a fight because of the curtain: the passengers of the airliner got into a dispute over the window
On average, Indonesians spend more than eight and a half hours a day on the Internet - almost 2:00 more than the global average, according to the Global Digital Report 2019.
Indonesian schoolchildren look at chicks in cages with signs that say "Please take good care of me" / CNN photo
Indonesian schoolchildren look at the chicks in the cages with signs that say "Please take good care of me"
Recall that 80% of Ukrainian children are on the Internet for more than an hour during the day, 30% - more than three hours a day. Every fourth parent in Ukraine monitors the gadgets of their children. Among the British - only 14% of parents know what their children are doing on the Internet.
Source: Yu News
25-11-2019, 05:51
A developer from Chicago plans to present the world with a smartphone case with its own screen.
Ken Madges from Chicago began fundraising at IndieGoGo to develop a case equipped with its own screen, processor and memory. Project financing has exceeded 400% of the required amount.
What can he do?
The device is positioned as a way to support multitasking: you can display videos, chats and any other information on it, and even play. Also, at any time, you can unfasten the second screen, turning it into a practically separate smartphone.
How is it done?
The cover itself is a pretty powerful chromebook. It is equipped with a processor with a clock frequency of 1.5 GHz, has two USB Type-C ports and a battery that lives roughly like a modern smartphone. Connection to the user's phone is carried out through the special MultiTask + application, which synchronizes via a secure Wi-Fi channel.
The device works with both iOS and Android smartphones. Here is the complete list of supported models:
iPhone: 6, 6 Plus, 6s, 6s Plus, 7, 7 Plus, 8, 8 Plus, X, XS, XR, Pro \ 11, 11 Pro Max
Samsung: S7, S8, S8 +, S9, S9 +, S10, S10 +, Note 7, Note 8, Note 9, Note 10, Note 10+
Pixel: Pixel, Pixel XL, Pixel 2, Pixel 2 XL, Pixel 3, Pixel 3 XL, Pixel 3f, Pixel 3a XL, Pixel 4, Pixel 4 XL
OnePlus: Model 6, 6T 7 Pro, 7T
24-11-2019, 07:06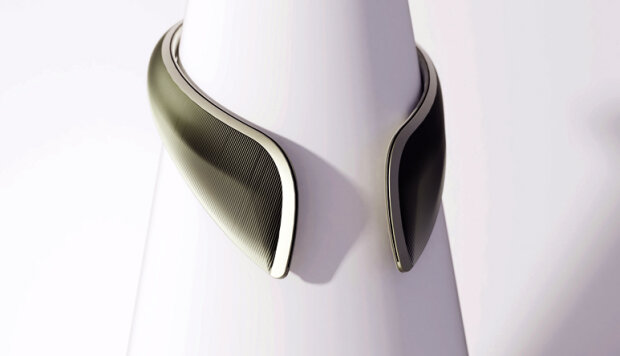 Amazing invention
Scientists do not cease to amaze with their new inventions, which should improve a person's life and make him more comfortable. This time they decided to please the female part of the population.
Scientists do not stand still and each time improve their inventions, bringing them to the ideal. In addition to improving human life, they also help maintain good health.
So, the London studio Seymourpowell has developed a unique necklace that will help protect human skin from any danger. This invention was reported by DeZeen.
According to the inventors themselves, such a necklace is a response to the threat of water shortages in the world. It is quite capable of protecting human skin from any cataclysms. In addition, this necklace has a very attractive appearance, which undoubtedly will appeal to many girls.
"Life in a modern metropolis is incredibly difficult: poor air quality, limited resources, high temperatures and the like. All this affects not only the body, but also our mental health. We are trying to change the way things are going with the new device, "said Marielle Brown, director of Seymourpowell Studio.
The device collects detailed information about where the person is now, and synchronizes it with the characteristics of the human skin condition. Based on the identified factors, the air condition around the person is already improving, and the missing components are distributed. They are stored in special vessels inside the necklace.
"We sought to learn how cosmetic brands can help not only protect our customers from the changing climate, but also provide more mobile offers and services," says Mariel Brown.
22-11-2019, 05:47
Air travel can be a nightmare for many people with reduced mobility who are forced to use a wheelchair in their everyday lives - and given that not all airlines offer the possibility of fast carriage on board, it becomes even more difficult. That is why the British engineer Richard Williams on November 17 presented his first prototype of a tourist wheelchair called the Traveler Chair, which can fold very smartly and when folded, appears to users as a small suitcase with a handle and special controls.
Thus, in its folded state, the Traveler Chair has a weight of 6 kg and, with its relatively small size, can easily be placed in the luggage compartment above the passengers 'head on board the aircraft - at least more than forty airlines will have such a device on board its characteristics. In addition, when the suitcase is folded, such a stroller is capable of holding up to 17 liters of volume and has separate compartments for convenient storage of documents and other papers.
The engineer introduced a unique collapsible suitcase. traveler chair, richard williams, airline, wheelchair, suitcase
And when the chair unfolds, it begins to look very much like a traditional stroller, with a slightly elongated and lightweight design - mainly due to the use of a special aluminum alloy, light and durable at the same time. In this state, the Traveler Chair is capable of supporting a person's weight of up to 100 kg and can move quite flexibly and quickly, using an improved motor mechanism and convenient wheel control.
So far, such a concept device is currently under development at the Kickstarter site, where developers continue to improve and supplement it - according to preliminary data, the cost of such a chair is $ 560 for those users who are ready to purchase it in a preliminary way, but after their release the price tag will creep up to the level of 626 US dollars, which again is a rather attractive level, not to mention the high level of its quality.
Roman Rosenthal
21-11-2019, 05:46
According to the BBC, scientists at the University of Pennsylvania claim that coating them will reduce water use during flushing by 90%. It is also reported that the coating does not allow bacteria to accumulate and prevents the formation of unpleasant odors.
A substance that is much more slippery than Teflon will be destroyed by urine, so it will need to be applied again after 50 rinses of water.
"Our team has developed a reliable, biological, liquid and antibacterial coating that can actually make the toilet self-cleaning," says Professor Tak Sin Wong.
Researchers hope the discovery will save water. Every day, more than 141 billion liters of water are used for disposal in toilets.