28-11-2019, 05:49
Beat Saber was released in May 2018. After launch, at least 1 million copies were sold.
Facebook has announced the acquisition of Beat Games, the developer of the Beat Saber (Rhythm Saber) game for virtual reality helmets. The studio will join Oculus Studio (the gaming division of Facebook) as an independent division based in Prague. The company will continue to support Beat Saber on all platforms.
See also: Facebook will change the design of the mobile version of the social network
The new owner believes that his resources will enable Beat Saber developers to achieve more. In particular, the game will have new levels with a 360-degree overview, as well as modes and functions. More music will appear in the game - this will be facilitated by the fact that Facebook has licensing agreements with a number of major music publishers.
Beat Saber was released in May 2018. She is one of the best VR-games, according to various industry publications. After the launch, at least 1 million copies were sold.
Facebook bought Oculus Studio in 2014 for $ 2 billion.
27-11-2019, 05:48
The proliferation of high-tech clothing is hindered by numerous manufacturers of ordinary textiles. They are monopolists, and spending years on development is not in their interests. However, scientists do not stop, they introduced a new technological material into a T-shirt based on ... tomato skins.
The main task is the creation of electrically conductive textiles that have superior properties over invented analogues to date. A combination of tomato skins with a special electrolyte nano-formula was handled by a group of scientists from Spain and Italy. They called their success "a step forward." The reason is the use of cheap, generally available and less toxic material with sufficient electrical conductivity. Comparative experiments with products from lead, tellurium or germanium showed that "tomato know-how" is in no way inferior, but in some ways superior to analogues.
Numerous experiments led to the development of an ecological alcohol formula, where tomato skins were combined with carbon nanoparticles. Eco-alcohol adheres to the cotton fabric when the material is heated to body temperature. Moreover, there is enough heat generated during normal walking. The difference in ambient and body temperatures generates electricity, the voltage of which is enough to charge a smartphone and any other gadget. Equipping a T-shirt with LEDs, you can ensure a constant glow in the dark. Note that this is a very shocking option when going to a club where there will be no lack of attention a priori.
26-11-2019, 05:50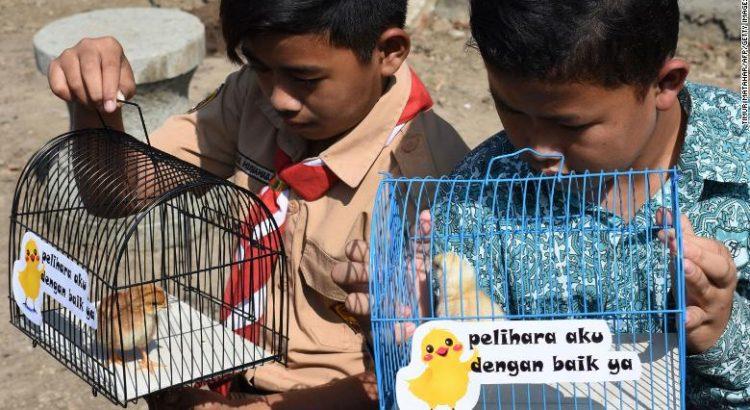 It is hoped that the project will help children use electronic gadgets less frequently, but local education authorities need time to evaluate this initiative.
An original way to overcome the dependence of students on the Internet was found in Indonesia.
There they launched the Chickenization program - they distribute small chickens and plant seeds to children, hoping that students will spend less time on electronic devices and more time caring for their pets or sprouts.
It is interesting: A woman built a house from glass bottles in Brazil
In total, two thousand chickens and one and a half thousand chili seeds have already been distributed in 10 primary schools in the city of Bandung, Oswitoria writes with reference to CNN.
At the beginning of this week, a symbolic presentation ceremony was held to begin the program.
It is hoped that the project will help children use electronic gadgets less frequently, but local education authorities need time to evaluate this initiative.
This is interesting: I almost got into a fight because of the curtain: the passengers of the airliner got into a dispute over the window
On average, Indonesians spend more than eight and a half hours a day on the Internet - almost 2:00 more than the global average, according to the Global Digital Report 2019.
Indonesian schoolchildren look at chicks in cages with signs that say "Please take good care of me" / CNN photo
Indonesian schoolchildren look at the chicks in the cages with signs that say "Please take good care of me"
Recall that 80% of Ukrainian children are on the Internet for more than an hour during the day, 30% - more than three hours a day. Every fourth parent in Ukraine monitors the gadgets of their children. Among the British - only 14% of parents know what their children are doing on the Internet.
Source: Yu News
25-11-2019, 05:51
A developer from Chicago plans to present the world with a smartphone case with its own screen.
Ken Madges from Chicago began fundraising at IndieGoGo to develop a case equipped with its own screen, processor and memory. Project financing has exceeded 400% of the required amount.
What can he do?
The device is positioned as a way to support multitasking: you can display videos, chats and any other information on it, and even play. Also, at any time, you can unfasten the second screen, turning it into a practically separate smartphone.
How is it done?
The cover itself is a pretty powerful chromebook. It is equipped with a processor with a clock frequency of 1.5 GHz, has two USB Type-C ports and a battery that lives roughly like a modern smartphone. Connection to the user's phone is carried out through the special MultiTask + application, which synchronizes via a secure Wi-Fi channel.
The device works with both iOS and Android smartphones. Here is the complete list of supported models:
iPhone: 6, 6 Plus, 6s, 6s Plus, 7, 7 Plus, 8, 8 Plus, X, XS, XR, Pro \ 11, 11 Pro Max
Samsung: S7, S8, S8 +, S9, S9 +, S10, S10 +, Note 7, Note 8, Note 9, Note 10, Note 10+
Pixel: Pixel, Pixel XL, Pixel 2, Pixel 2 XL, Pixel 3, Pixel 3 XL, Pixel 3f, Pixel 3a XL, Pixel 4, Pixel 4 XL
OnePlus: Model 6, 6T 7 Pro, 7T
24-11-2019, 07:06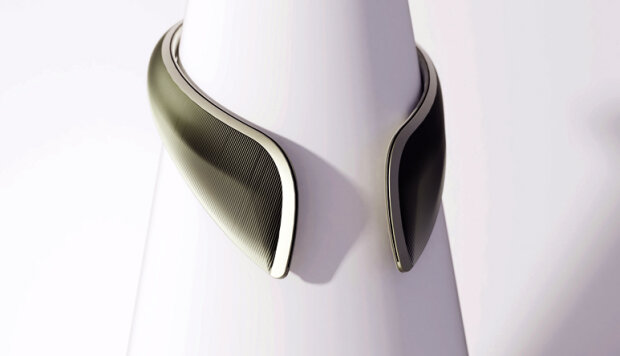 Amazing invention
Scientists do not cease to amaze with their new inventions, which should improve a person's life and make him more comfortable. This time they decided to please the female part of the population.
Scientists do not stand still and each time improve their inventions, bringing them to the ideal. In addition to improving human life, they also help maintain good health.
So, the London studio Seymourpowell has developed a unique necklace that will help protect human skin from any danger. This invention was reported by DeZeen.
According to the inventors themselves, such a necklace is a response to the threat of water shortages in the world. It is quite capable of protecting human skin from any cataclysms. In addition, this necklace has a very attractive appearance, which undoubtedly will appeal to many girls.
"Life in a modern metropolis is incredibly difficult: poor air quality, limited resources, high temperatures and the like. All this affects not only the body, but also our mental health. We are trying to change the way things are going with the new device, "said Marielle Brown, director of Seymourpowell Studio.
The device collects detailed information about where the person is now, and synchronizes it with the characteristics of the human skin condition. Based on the identified factors, the air condition around the person is already improving, and the missing components are distributed. They are stored in special vessels inside the necklace.
"We sought to learn how cosmetic brands can help not only protect our customers from the changing climate, but also provide more mobile offers and services," says Mariel Brown.