Date: 16-09-2016, 23:17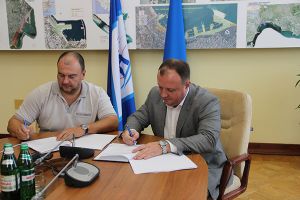 The state enterprise "Administration of sea ports of Ukraine" and company "Metalsukraine Corp Ltd signed a Memorandum of intent to implement the investment project. The project will be the reconstruction of the berth № 7 at Odessa sea port and the water approaches and also construction in the rear of the berth complex for transshipment of grain cargoes, the press service of the ASD.
According to the report, the project envisaged development Plan of the Odessa sea port. The capacity of silo Park will be about 100 thousand tons, productivity of grain terminal for the loading of the vessel will amount to 1 thousand tons per hour, and the capacity of the terminal on processing of grain will amount to 4 million t in a year with prospect of increase up to 6 million
"Our company cooperated for many years with the port of Odessa as a reliable partner on whom you can rely on. That's why we decided to expand our presence in the port and are ready for gradual development. Together with the construction of the terminal, the port will receive additional traffic, and as a result, revenues from port fees. It is 100% win-win situation", — said the head of the company-investor Nicholas Bondaruk.
The volume of private investment in the project and the state in the reconstruction of the pier is 2 billion UAH.
It is noted that the result of the project will create 150 jobs.